| | |
| --- | --- |
| | Sportsmen Scuttlebutt |
---
November 25, 2002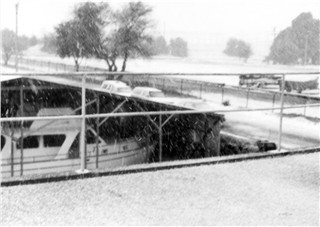 Snow in Antioch?
---
ABOARD the ALMA
(17 June 2002)
By Darlene Dawson
At 0700, Mrs. Vice Commodore Alice Gibson, and I climbed over Sportsmen Yacht Club's Fishing Pier and boarded the ALMA, a flat bottom scow built in 1891 to haul cargo in the Bay and Delta.
Scuttlebutt has it that thanks to Small Boat Curator, Bill Doll, the ALMA is now history in motion; and in motion she was—maybe 9 knots—under the capable hands of Captain Al and First Mate Alice.

We set sail for the "Garden Place of the Delta."
On board, we were met with a yell from Captain Al for all those people sitting around to make themselves useful.

Sportsmen YC's Alice proved herself to be just that when she received a high five from ALMA's first mate, Alice.

Me, I remembered the advice of "Captain Ron," a.k.a. "JD," and helped by staying out of the way.
Our ETA was 1300, but after an up-close encounter of a big ship and a daring rescue at sea, we arrived and were secured by 1000.
For all of you who missed the ALMA, you can visit her at the Hyde Street Pier in San Francisco or at her website:

---
May 2002
They said it would never happen but here is proof positive: John's sturgeon is in first place over Carol's!

(80 lbs, 71 inches)
May 17, 2002
&nbsp &nbsp
---
August 2001
| | |
| --- | --- |
| | Ray & Muriel Telles celebrated their 50th Wedding Anniversary during a surprise party aboard the Sausalito on August 26, 2001 |
| | |
---
2001

Ray Murphy's Letter to the Sportsmen
Dear Sportsmen Friends,
Well, I'm on my way to my new home in Farmington Hills, Michigan. I will miss the Sportsmen I've known over the past 24 years. The Club has been my best friend, the place I could always find something to do, and a friend to talk to. I've enjoyed being part of the Club.
This should be a happy day because I'm going home to my family - 3 brothers and a sister, 4 children, 22 grandchildren, 2 great-grandchildren, and old friends - but I'm going to miss Sportsmen YC. I will be back to visit and hope to see you all again.
I would like to thank you for my Going-Away Party. It was a very great party. Thank you again! Come see me if you can. My addresses are listed below.
Will miss you all.
Ray Murphy

---

June 2000

Theron (Max) and Mary Wheeler celebrated their 50th wedding anniversary aboard the Sausalito Saturday night, June 10, 2000 with about 150 family members and friends attending.

A great time was had by all with lots of good food, good cheer and plenty of nostalgia

Congratulations to Theron & Mary Wheeler and here's to the next

Fifty Years!
---
Dave and Sharon Selvy decided that boating was too much fun to miss and so they purchased the "Jackie Oh" from Jackie S. Here we see the new name "Uf Dah" going on (I think that's Irish for something).
---
June 2000
Al Fonseca checks in from high above -
---
Heard any good scuttlebutt lately? If it can be repeated in a family environment, email to: Webmaster