| | |
| --- | --- |
| | Ferryboat Sausalito History |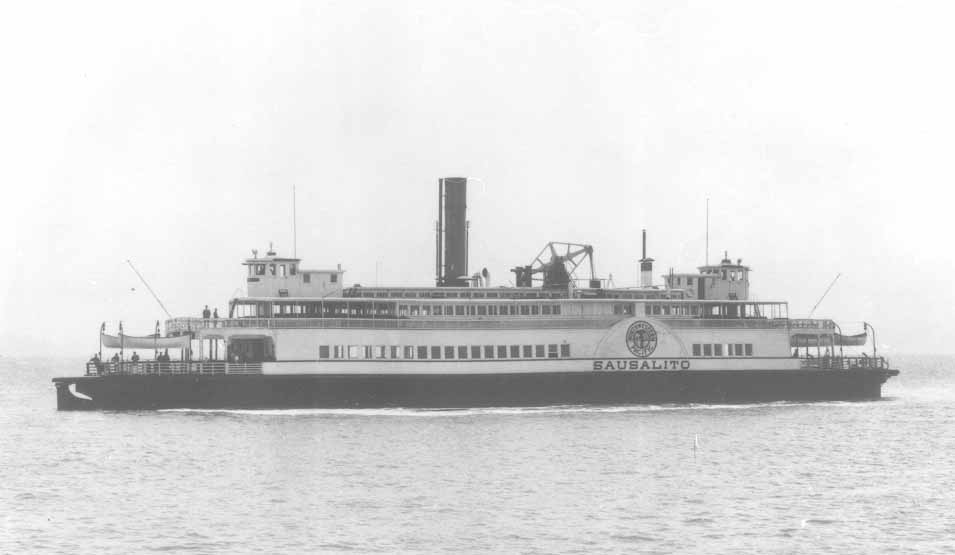 Arriving at the North West Pacific pier in Sausalito August 1, 1926




In the Oakland Estuary during Alameda Mole Period 1931-1933
(SP service) San Francisco Ferry Building to Alameda Pier.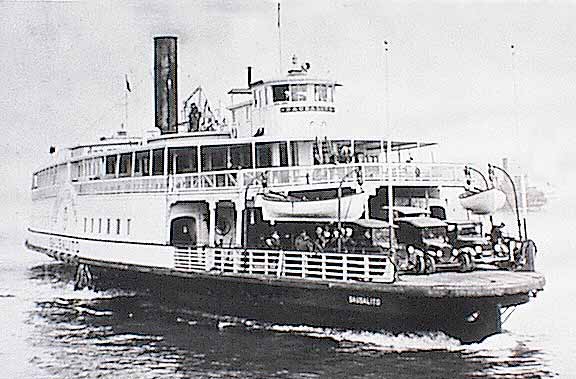 Providing Ferry Service for Passengers and Automobiles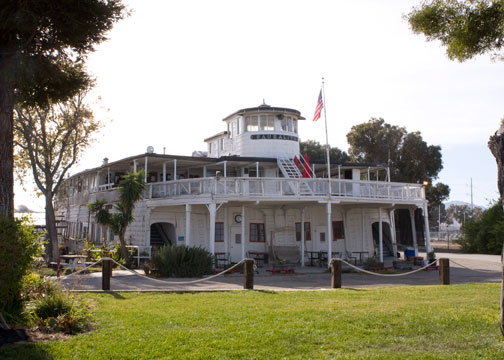 Since 1939, she has served as the Clubhouse for Sportsmen Yacht Club
(Check out "Sportsmen Yacht Club History")
---

Kathie's November 2017 Article





Historian Kathie Hammer

Recently, it came to my attention there is some doubt where our Club members put our Sausalito ferryboat after we bought her in 1934 minus her engines.

She retired in 1931 and was sold to Learner and Rosenthal of Oakland. It was from this firm Sportsmen bought her for $750.

The Sportsmen organization wanted to provide its members with a recreational area. An area that seemed to offer this was a plot of ground facing the San Joaquin River and stretched out through the sand dunes to Wilbur Avenue.

After a thorough investigation of the site, which was several miles downriver, it was unanimously agreed to lease this site from Ben Morris. A lease was signed on July 1, 1932. The membership enjoyed the next four years on this rented site.

It was on February 4, 1939, that the Sportsmen made a deposit on seven acres of river-front property. With the financial aid of many of the members who willingly helped with individual loans, the property was purchased. This elevated Sportsmen from a tentative tenant position to an individual land owner.

The land was purchased and a dredging contract was signed for a landlocked harbor 100x300 feet. A cradle was made for the moving of the clubhouse. The moving of the ferry took 3 hours and 15 minutes after the tug boat hooked on. They used an old pump and motor to pump out the water in her hull, because they had punched holes in her hull so she wouldn't rock and roll so much.

After four hours of hard work, the Sausalito arrived in her new berth without a bump or jar. It was written even a vase of flowers in one of the roof cabins was not jarred out of place. This was dated April 3, 1939.

If you had any doubt where our ferry was before she was brought to her present location, I hope this has helped.

We have so many past members to thank for what we have today!
Kathie's October 2017 Article

This article is in part from the book, "Trains to the Russian River" by Fred A. Stindt.
Any summer day in the early part of the 20th Century and into the beginning of the 1930s, you would see long lines at the Northwestern Pacific Railroads ticket windows at the Ferry building in San Francisco. The lines would start at about 7 a.m. and continue until 8:45 a.m. as vacationers, weekend travelers, or people just going on a day trip to visit the vacationland along the Russian River. My mother, who was born in 1909 and lived in San Francisco after coming from England, would board one of these trains every year with her mother, brother, and sister to stay at a cottage they rented for the summer in Rio Nido.
At precisely 7:45 a.m., the big sliding door would open and everyone would make a mad dash to board the ferry boat to Sausalito where you climbed aboard the steam trains. The gate keeper would call out, "All aboard for Point Reyes, Tomales, Occidental, Camp Meeker, Monte Rio, Duncan Mills and Cazadero, narrow gauge Train Number 8." In three minutes, the rush was over and the ferry, with a splash and foam from its massive paddle wheels, was on its way. On Sundays and holidays, there were even more people so they had a special broad gauge excursion train that departed with the ferry connection leaving San Francisco at 7:15 a.m. The "iron horse" was king and the swaying wooden open platform cars were a thrill to ride, as thoughts of fun at the beach and in the woods were going through the minds of the thousands who rode the ferries and trains to the Russian River.
Kathie's September 2017 Article
As I said in my Historians Report at the August meeting, I found some new treasures for our museum.
We spent three weeks this year camping in the Redwoods in Crescent City. One day, as we were browsing in an antique shop, I found several articles with side-wheeler ferryboats on them. There are many articles around with ferryboats, but they are always sternwheelers, so I was very excited.
| | |
| --- | --- |
| | I started visiting with the owner George. He didn't give me his last name and his business card says, "George and Melinda, Owners." I told him about our ferryboat the Sausalito and how I made a museum out of two of the rooms where the cars had driven on and asked him if he would like to be immortalized in the museum by donating an item. He said, "Sure!" and he was so interested in it he gave me the other items half off. I explained how much I appreciated it and told him I would put his picture in our Newsletter. |
If you are ever near or in Crescent City, please stop by his store called North Coast Coins & Collectables and thank him for his donation.
Kathie's August 2017 Article
I would like to suggest to you a fabulous historical outing. I have wanted to do it for a long time and finally made it. It is the Rosie the Riveter/World War II Home Front National Historical Park in Richmond.
We went with Neal & Diane Essary. Diane's mother, Sylvia Larson, a former Club member, was a Rosie in Oregon and Diane brought her mother's ID badge with her to the museum. It is incredible what these women did during the war and thank goodness they are getting some recognition.
Some six million women joined the workforce after they heard President Roosevelt speak on the radio in 1941, after the attack on Pearl Harbor. Many women signed up to work right away, others were actively recruited. The government started with single women, then extended it to married women, then minority women. Of course, this was something very new— women working in men's positions. At first, they were met with some harassment but were gradually accepted. By 1944, women made up almost a third of the workforce. After the war, they were encouraged to give up their jobs for the returning veterans. By this time the women had proved they could do men's work.
When you go, look for the Visitors' Center. We had a wonderful guide who really knew her history. There is a nice restaurant on site. I really think you will enjoy this visit.
Kathie's July 2017 Article
Providing the history of the Club and information on things from the past has been a great pleasure for me ever since 1992 when I decided we needed to have a museum to keep all of the valuable things that were getting thrown away.
Without the help of many, it would not have been possible to put the museum together. Many things have been donated and some are on loan.
We have a new artifact in our museum. Thanks to Alice Gibson, who was digging thru the spoils of the dredging, we have a small but beautiful precious powder container which she found while digging through all the dirt from our harbor. It is amazing the dredger didn't break it because it is a crystal like jar with a silver cap. It looks like it is from the 1930s or 1940s; if only it could talk.
Below is a picture of Alice presenting it to me for our museum. Thank you, Alice, on behalf of all our members for always being alert to things around you that could hold important history.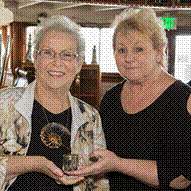 Kathie's June 2017 Article

I know many of you know the history behind the 4S, but for the many new members I would like to repeat it.
This year will be the 64th year we have come together for this great event. It all started in 1953 when four yacht clubs, Sportsmen, Sacramento, Stockton and San Joaquin clubs got together for an Over-the-Bottom Race. The host club would serve sandwiches at the end of the race.
We have come a long way since 1953. Now it is a three day event with games, food, entertainment and fun.
The 4S is a wonderful event where old friendships are renewed and new friendships are made. It is a weekend like no other. I highly recommend everyone attend; you will have a marvelous time.
Our 4S game tryouts will be on June 17th. We want to bring the perpetual trophy home!

Kathie's May 2017 Article
One of the best things about being historian and putting together our museum is talking to people about the past. In the past two weeks, I have had the pleasure of talking to three people about the history of the Ferry and how they used to ride it across the Bay.
The first was a call I received from a Mr. Carry. His father was Commodore in 1943 and he told me he spent many summers on the beach in front of our Ferry and his father was on the Ferry when they brought her to this property in 1939. Mr. Carry was leaving on a vacation and told me he would contact me in May so we can meet on the Sausalito and talk about the past.
The second meeting was with my friends, Bob and Yolanda Massei, who I have played cards with for years. One morning recently Bob told me how he took the Ferry to the Golden Gate International Expedition (the 1939 World's Fair). His brother was a Boy Scout and they made several trips by ferryboat to the exposition; he remembers he was about eight years old. Yolanda also went to the fair on the Ferry which she remembers driving her car on and off the boat.
I asked them both what they remembered about the fair, besides it being very exciting. Bob remembered the Billy Rose Aqua Cade and the Wild West Show with Cowboys and Indians. He also remembered there were barkers everywhere asking you to come inside to see different things like a bearded lady and undressed ladies riding donkeys.
Yolanda said they gave free samples everywhere. She remembers Heinz pickles and hotdogs. In fact she said her sister ate so many hotdog samples that she got sick.
Bob's great uncle turned the lights on and off each day. He also remembered the Giant Clipper Airplane landing in the Bay. He said many countries had exhibitions. Bob showed me his Mother's house key she had made at the fair and I am enclosing a photo of it. I asked him if he would like to share it with our museum and he is not ready for that. Maybe some day.
Treasure Island was created (manmade) especially for this event. For those who don't know or have forgotten, our Club's bar came from the fair. It was in the women's lounge.
It must have been wonderful!

Kathie's April 2017 Article
The Delta King was built in Scotland in 1926. The five-story, 285 foot long steel framed sternwheeler was disassembled and shipped to Stockton, California, where it was reassembled. Sacramento got her first look at the luxury steamer in June 1927. Jazz bands entertained some 200 passengers on their overnight voyage between Sacramento and San Francisco.
The Delta King traveled along the Sacramento River between 1927 and 1941. After a long period of disuse, the King was brought to Sacramento in 1984, restored, and put to use as a floating hotel featuring shops, museums, and restaurants. She also has many conference rooms and a theatre.
With her grace and luxury on the waterfront of Old Sacramento she is now the pride of Sacramento.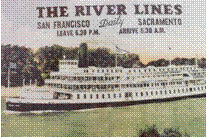 Kathie's March 2017 Article
During the past month I was talking to several people about my last historical article in which I talked about the stained glass windows in our beloved ferry, the Sausalito.
Sandy Williams brought to mind the wooden seats that used to be throughout the top deck of our ferry. There are still some original ones in the Club office that are in pretty good shape. There are also some in the back, (harbor side) that were in pretty bad shape. Several years ago, Ken Williams made a pattern from one of them, (a decorated design made of drilled holes on wood), duplicated that pattern and they look great today.
You have probably passed them hundreds of times, but did you ever take a good look at them? Underneath the seats you can see where the life jackets were stored. These seats were not only throughout the ferry but they were also in the room which we now call the library and the wash room.
Bill Knorp, who is an expert on the history of the Bay Ferries, said when he was very young he would meet his friend Dr. Snead. They would run onto the Sausalito Ferry to get just the right seat by the window in the room which is now the library and they would sit by the "shaking board." It was the board between the windows and it would shake as the ferry traveled to Sausalito.
Below are photos of the sketches drawn by Dr. Snead of what the seats on the Sausalito looked like in the early days.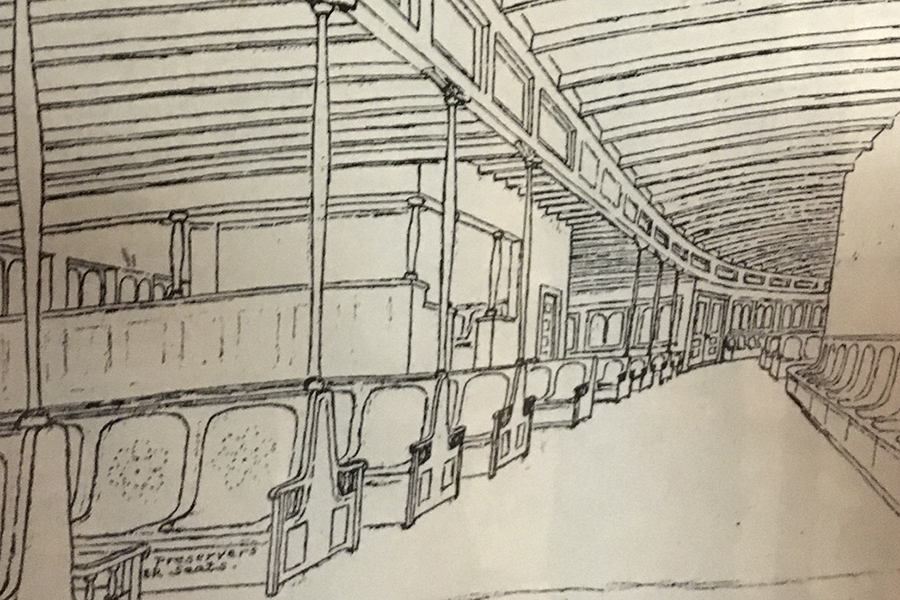 Kathie's February 2017 Article


Over the holidays, Marianne Tate asked me if I would like to see how the new Ship's Store was coming.
I had not been in the new part since it was the liquor storage room. When I saw the painted windows, I told her that in the early 90's the stained glass windows around the Ferry were all covered with tar paper so the light didn't shine through them. It was decided to take the tar paper off and remove paint on some of them. When it was finished, they looked beautiful - until the first rain when they leaked like a sieve. It was then we decided to cover them with Plexiglass which has lasted until today.
When I started thinking about making a museum in 1992, one of the things I tried to find out was where the stained glass came from. After about 3 years of hunting through many books, I knew that men came from all over to find gold and, as we all know, many didn't find any and had to find work. So my conclusion is it was probably a European artisan that needed work and the ship builder said, "You are a glazier, you make our windows." They are priceless and a beautiful treasure.
The new Ship's Store is going to be so nice. It is wonderful to see so many people appreciate the Ferry and continue to make so many improvements.
Kathie's January 2017 Article
This information is partly from an article in the Contra Costa times by Nilda Rego.
In 1892, a coal merchant, John I. Davie, and his colleagues leased a piece of property to build a wharf on the north side of the Oakland estuary. When the Southern Pacific Railroad heard about it, they served Davie with a notice saying he was trespassing. The Waterfront Company, which was owned by Southern Pacific Railroad, said they owned all Oakland waterfront. There was quite an uproar with over 100 men armed on each side of the estuary. One side was trying to install pilings, the other trying to stop them.
It turned out Southern Pacific feared the competition. It had controlled the ferry service on the San Francisco Bay for years and was charging 12 to 25 cents a ride, more than double what ferries were charging in other parts of the country.
Davie beat the railroad. He built a ferry in Alameda and called it the Rosalie. On July 5, 1893, the Rosalie made its debut carrying 2,800 passengers the first day. The service was from what is today known as Jack London Square to San Francisco. Everyone loved the Rosalie and Davie only charged a nickel for a one way trip. The ferry was so popular that Davie built another ferry and named it the Alvira.
This competition forced the Southern Pacific to lower its own rates to a nickel.
Davie gave up his ferry service after a few years. He went into politics and was elected mayor of Oakland five times.

If you should happen to have old newspaper articles, photos, other artifacts, or personal knowledge relevant to the history of The Ferryboat Sausalito, please contact Historian Kathie Hammer. Please see "Contact SYC Staff" on Home page. Thank you.